Wholesale & Distribution
Thank you for your interest in Chicago Gold Popcorn.

Here at Chicago Gold Popcorn we specialize in making great popcorn that everyone can enjoy.

If you are a retailer with one store or thousands; a DSD Distributor or Wholesaler Distributor we can accommodate your needs. The addition of Chicago Gold Popcorn to your snack selection will grow your sales in this category.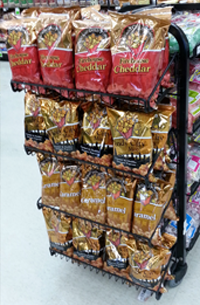 Chicago Gold's products are designed for retail, with our attractive packaging and high quality great tasting popcorn you will generate fast turns, repeat business and profits.

Chicago Gold Popcorn services all classes of trade through different means of distribution.

- Direct to your warehouse or D.C. via LTL or T/L shipments
- D.S.D. Service Providers (Chicagoland area through Taylor's Candy Inc.)
- Direct ship via UPS to a single location
- Distribution through your primary grocery or c-store supplier (Coremark, McLane, etc.)
- Independent Distributors



If you would like to distribute or have retail locations you would like to sell our products at, please contact our office at 708.371.6144 or email us at info@windycitygoldpopcorn.com.